Episode 141 – We'll Figure It Out with Dave Kampfschulte of Amazing Circles Workshops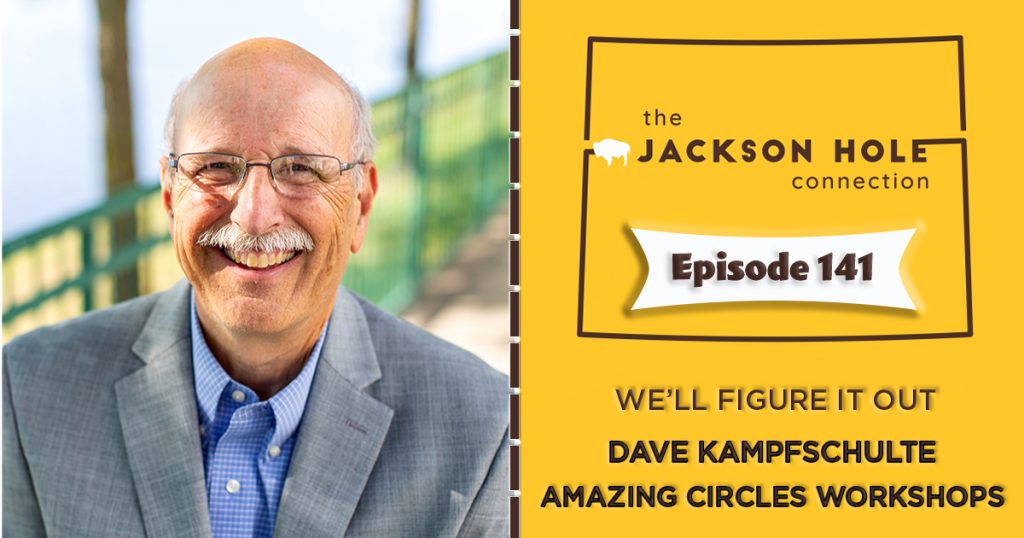 In this week's episode of the Jackson Hole Connection, Stephan visits with Dave Kampfschulte for a second time. We were so happy to have Dave on for another wonderful conversation. Dave was our guest way back in Episode 8 of The Jackson Hole Connection. He is a grandfather, husband, retired teacher, author, speaker, and a 25-year hospice volunteer. Dave and Stephan sat down on his recent trip to Jackson to see his new grandchildren. 
In this episode, Dave shares what he has been up to since he and Stephan last spoke. He talks about sharing other people's stories and the tools needed to approach difficult conversations. Stephan and Dave discuss how all of us have a ripple effect of impacting other people's lives. 
Learn more about Amazing Circles Workshops at AmazingCircles.net
Connect with Dave directly by emailing Dave@amazingcircles.net
Dave has written two books, Amazing Circles and I'm Dying to Talk with You: Twenty Five Years of Conversations on End of Life Decisions. 
One of the books mentioned in the interview is Tuesdays with Morrie : An Old Man, a Young Man, and Life's Greatest Lesson by Mitch Albom
This week's episode is supported in part by Teton County Solid Waste and Recycling reminding you to reduce, reuse, recycle, and compost. Avoid single-use products whenever possible, and remember to bring your reusable bags with you while shopping. More at @RoadToZeroWasteJH . 

Support also comes from Kilter Physical Therapy and Sports Performance Center. Each physical therapy session at Kilter is 1-on-1 with a licensed physical therapist.  Every treatment session will allow ample time for individual evaluation, manual treatment, modalities, and appropriate exercise prescription for your personal needs. More info at kilterpt.com

Want to be a guest on The Jackson Hole Connection? Email us at connect@thejacksonholeconnection.com. Marketing and editing support by Michael Moeri.