Episode 95 – Talking Hot Air with Virginia Powell Symons & Margaret Rose Breffeilh of The Teton Valley Balloon Rally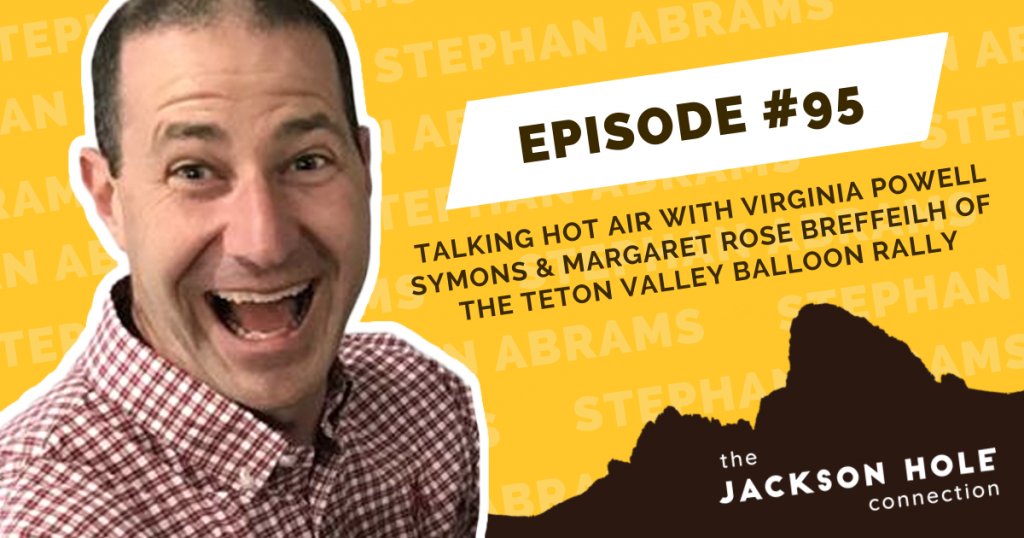 In this week's episode of the Jackson Hole Connection, Stephan visits with Virginia Powell Symons & Margaret Rose Breffeilh, the organizers and board chairs of the Teton Valley Balloon Rally. Both Virginia and Margaret arrived in the Jackson Hole area in 2001. Virginia operates an event planning business called Vibrant Events and Magaret is the Owner/Pilot for Elevated Ballooning. The two have been working together for several years, helping to carry on an almost 40 year tradition, making sure balloons fly for the annual Teton Valley Balloon Rally.
In this episode, Virginia and Margaret talk about all that goes into flying a hot air balloon, planning a rally, flying in such a beautiful place and the changes to this year's event. 
The 2020 Teton Valley Balloon Rally is July 2nd-5th. More details can be found at TetonValleyBalloonRally.com
Find out more about Virginia's business Vibrant Events at VibrantEventsJH.com
Learn about Margaret's business Elevated Ballooning at ElevatedBallooning.com
This week's sponsor is The Liquor Store of Jackson Hole! Check them out at TheLiquorStoreJacksonHole.com.

Want to be a guest on The Jackson Hole Connection? Email us at connect@thejacksonholeconnection.com 
Music in this episode is provided by Luke Taylor. Marketing and editing support by Michael Moeri.