Episode 137 – Designed to be Epic with Stephen "Sulli" Sullivan of Stio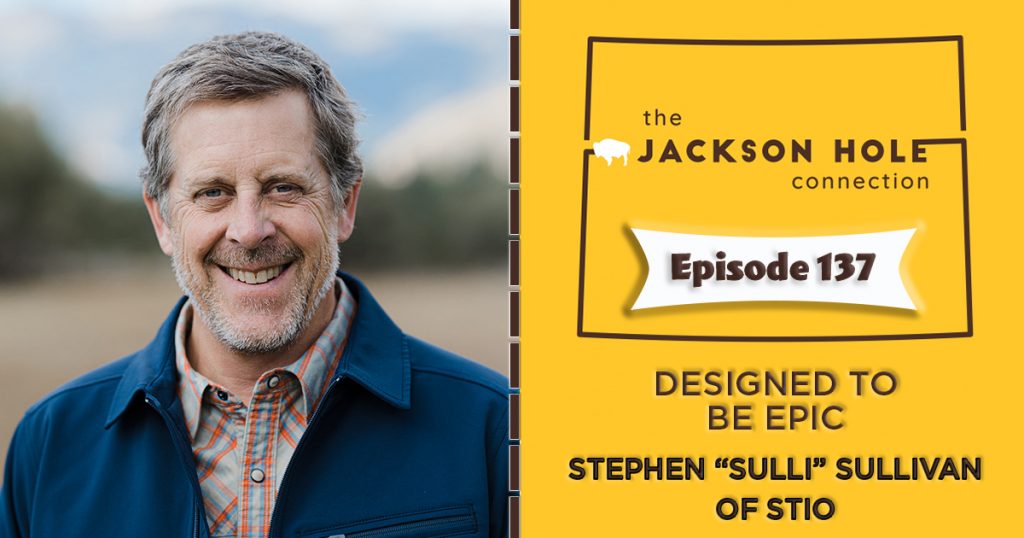 In this week's episode of the Jackson Hole Connection, Stephan chats with Stephen "Sulli" Sullivan. Sulli is the Founder/CEO of the outdoor apparel company Stio. Stio's apparel is designed from the ground up to help inspire a connection to the outdoors, promote sustainability, versatility and durability. You'd be hard-pressed to walk down the street in Jackson and not see Stio's whitebark pine cone. 
In this episode, Sulli talks about how he uprooted his life in the corporate world to live the mountain life. He shares the rise and fall of his first company Cloudveil and how this venture was more valuable than an MBA. Sulli dives into what it takes to build a brand and the science and analytics behind the direct-to-consumer market. Stephan and Sulli also discuss sustainability and the importance of ethical business practices. 
Find out more about Stio at Stio.com
Follow Stio on Instagram @Stio
This week's episode is supported in part by Teton County Solid Waste and Recycling reminding you to reduce, reuse, recycle, and compost. Avoid single-use products whenever possible, and remember to bring your reusable bags with you while shopping. More at TetonCountyWY.gov.  

Support also comes Kilter Physical Therapy and Sports Performance Center. Each physical therapy session at Kilter is 1-on-1 with a licensed physical therapist.  Every treatment session will allow ample time for individual evaluation, manual treatment, modalities, and appropriate exercise prescription for your personal needs. More info at kilterpt.com 

Want to be a guest on The Jackson Hole Connection? Email us at connect@thejacksonholeconnection.com. Marketing and editing support by Michael Moeri.