Episode 192 – Supporting One Thriving and Diverse Greater Teton Community with Sharel Lund of One22 Resource Center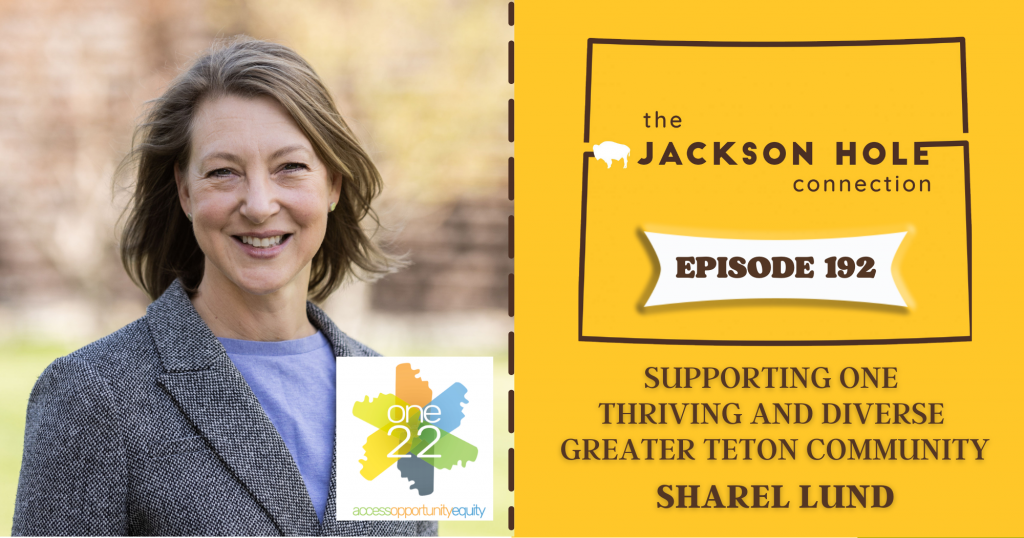 Sharel Lund is the Executive Director of One22 Resource Center. Originally from the Seattle area, Sharel moved out to Jackson over 31 years ago. After a decade of working in advertising and retail, Sharel transitioned to the nonprofit sector where she has helped local residents in her roles at the Community Safety Network and One22 Resource Center.
In this episode, Sharel and Stephan discuss some of the real problems that residents are facing and how Jackson has the perception of being a Utopia. Sharel talks about her work for the Community Safety Network, an organization that provides a refuge for people affected by domestic violence, sexual assault and stalking. She then goes into what the One22 Resource Center does for the community.
One22 provides residents with many resources, including financial assistance, language access services, immigrant services and youth scholarships. One22 also runs the Jackson Cupboard, which helps nourish our community and cuts down on food insecurity.
To find out what programs are available at One22 Resource Center visit One22JH.org.
Follow them on Facebook and Instagram @one22jh
This week's episode is sponsored in part by Teton County Solid Waste and Recycling, announcing the new commercial Curb to Compost Program for restaurants and other commercial food waste generators. More at TetonCountyWY.gov or at @RoadToZeroWaste.JH on Instagram
Support also comes from The Jackson Hole Wine Club. Curating quality wine selections delivered to you each month. Enjoy delicious wines at amazing prices. More at JacksonHoleWineClub.com
Want to be a guest on The Jackson Hole Connection? Email us at connect@thejacksonholeconnection.com. Marketing and editing support by Michael Moeri (michaelmoeri.com,@thatsamoeri).