Episode 203 – A Chat with Our Friends of the Bridger-Teton with Scott Kosiba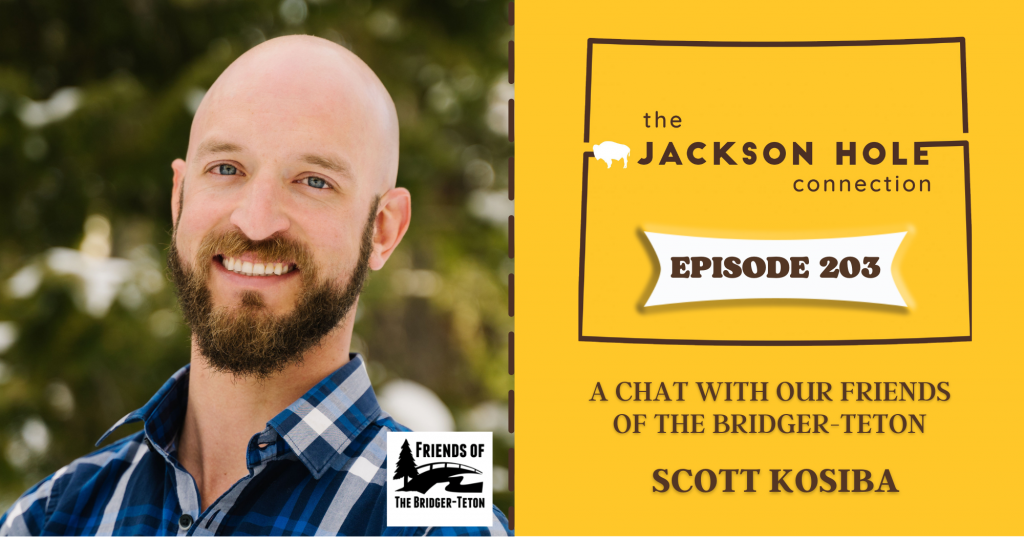 Scott Kosiba is the Executive Director of Friends of Bridger-Teton. Originally from Michigan, the study of Sage-grouse brought Scott out to Wyoming in 2010.
In this episode, Scott shares the story of what brought him out to Wyoming and what it is like living in the Pinedale area. He talks about the increase in visitation to the Bridger-Teton area and the impact it has had on the public lands. Scott dives into some of the bigger initiatives that they have accomplished, including installing and maintaining vault toilets at Shadow Mountain. He then explains the three different types of camping on the Bridger-Teton land. Stephan and Scott also touch on fire and bear safety, tagging photos responsibly, and how volunteers can make a big difference.
Do you know what a Charmin flower is? Listen to this episode to find out.
Follow Friends of The Bridger-Teton @bridgertetonfriends
This week's episode is sponsored in part by Teton County Solid Waste and Recycling. Old Bill's Fun Run donations directly support zero waste education and outreach. Recycle often, recycle right, and donate today! Donate at OldBills.com. More at @RoadToZeroWaste.JH on instagram.
Support also comes from The Jackson Hole Wine Club. Curating quality wine selections delivered to you each month. Enjoy delicious wines at amazing prices. More at JacksonHoleWineClub.com
Want to be a guest on The Jackson Hole Connection? Email us at connect@thejacksonholeconnection.com. Marketing and editing support by Michael Moeri (michaelmoeri.com)