Episode 181 – Becoming a Horse Warrior featuring Priscilla Marden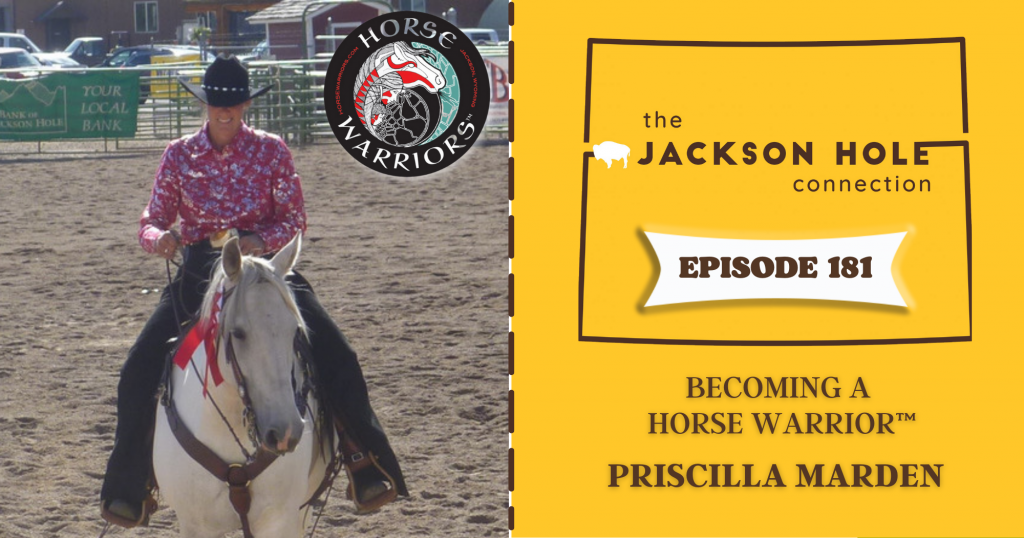 Priscilla Marden is the co-founder of Horse Warriors and co-owner of Diamondfly Ranch. She first came out to Jackson Hole in the 70s to work at a dude ranch just outside of The Grand Teton National Park. Priscilla has helped numerous non-profits in the community including the Teton Science School and the Art Association. She now operates Horse Warriors, a equine facilitated leadership and empowerment program.
In this episode, Priscilla reminisces about what it was like to live and work in Jackson Hole in the 70s. She talks about the impactful work that Horse Warriors does to help make the world a better place, one relationship at a time by connecting people with horses, nature and art. Priscilla then shares with Stephan some very touching stories about people whose lives were forever changed by being in the Horse Warriors program. 
Follow Horse Warriors on Instagram @horse_warriors
Learn more about Horse Warriors and their programs at HorseWarriors.com
This week's episode is sponsored in part by Compass Real Estate, the region's largest and most dynamic real estate company in the valley. For more information and to view current listings visit COMPASS.com or at @compassjacksonhole

Support also comes from Teton County Solid Waste and Recycling. Want to become a better recycler?  Well, there's an app for that – the Recycle Coach app!  Now available for Jackson Hole locals and visitors. More at TetonCountyWY.gov or at @RoadToZeroWaste.JH on Instagram

Want to be a guest on The Jackson Hole Connection? Email us at connect@thejacksonholeconnection.com. Marketing and editing support by Michael Moeri (michaelmoeri.com).