Episode 130 – Helping Grow Jackson's Nonprofit Community with Ponteir Sackrey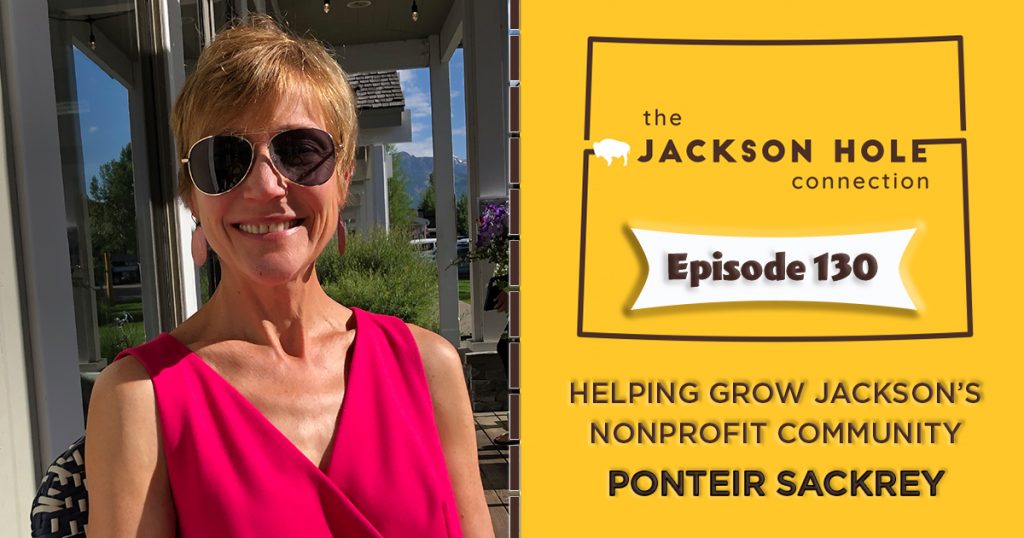 In this week's episode of the Jackson Hole Connection, Stephan chats with Ponteir Sackrey. Ponteir is the chief advancement officer at the National Museum of Wildlife Art. She has been a vital part of the non-profit community since moving out to Jackson over 30 years ago. On top of the National Museum of Wildlife Art, she has helped grow the Center for the Arts and Grand Teton National Park Foundation. Ponteir has also served on many boards including Womentum, Old Bill's Fun Run, and the Jackson Hole Chamber of Commerce just to name a few.
In this episode, Ponteir shares why she gave up the world of finance in Boston for a job helping support the creation of Snow King Sports & Events Center. She talks about what the National Museum of Wildlife Art has to offer, especially for families. Stephan and Ponteir also chat about the importance of mediation and finding time to just breathe.
Connect with Ponteir by emailing psackrey@wildlifeart.org
Find out more about the National Museum of Wildlife Art at WildlifeArt.org
Follow the National Museum of Wildlife Art:
Instagram: @WildlifeArtJH
Facebook: @WildlifeArtJH
This week's episode is supported in part by Teton County Solid Waste and Recycling reminding you to reduce, reuse, recycle, and compost. Avoid single-use products whenever possible, and remember to bring your reusable bags with you while shopping. More at @RoadToZeroWasteJH on Instagram.

Want to be a guest on The Jackson Hole Connection? Email us at connect@thejacksonholeconnection.com. Marketing and editing support by Michael Moeri.