Episode 167 – Advocating For Energy Conservation with Phil Cameron of Energy Conservation Works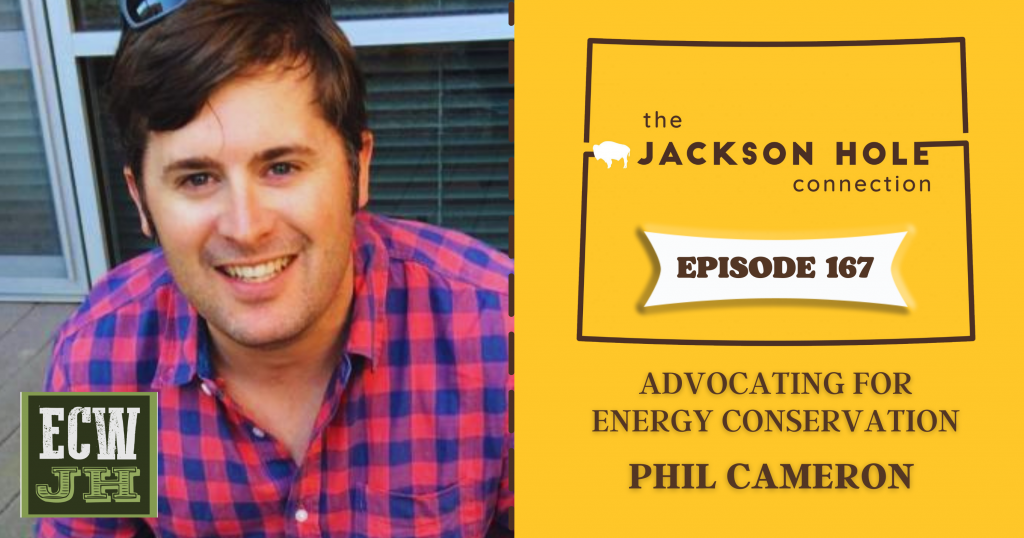 In this week's episode of the Jackson Hole Connection, Stephan chats with Phil Cameron. Phil is the Executive Director of Energy Conservation Works (ECW). The goal of ECW is to build partnerships with the Town of Jackson, Teton County, Lower Valley Energy, and other organizations to create and instill programs that improve energy conservation and reduce emissions.
Phil made his way out to Wyoming a week after graduating from college in Massachusetts. After spending a summer guiding tourists on fly fishing trips, he transitioned into the non-profit sector and took a position at the Teton Science School. Utilizing his knowledge of scientific literacy and non-profit operations Phil pivoted to a job as Executive Director of Yellowstone-Teton Clean Cities. His work with Clean Cities helped Phil discover his passion for working on energy efficiency projects and paved the way for him to take an opportunity to be the Executive Director of Energy Conservation Works.
Listen to this episode to learn all about what Energy Conservation Works does for the Jackson Hole community. Phil goes into detail about the programs that not only reduce energy consumption but can also save residents and businesses lots of money. Stephan and Phil also talk about the history of conservation in the Valley and how Lower Valley operates differently than other energy companies. 
Find out more about Energy Conservation Works at EnergyConservationWorks.org
Follow Phil on Instagram @dpcameronjr
This week's episode is supported in part by Teton County Solid Waste and Recycling reminding you to reduce, reuse, recycle, and compost. Avoid single-use products whenever possible, and remember to bring your reusable bags with you while shopping. More at RoadtoZeroWasteJH.org or at @RoadToZeroWaste.JH on Instagram

Support also comes from The Jackson Hole Marketplace. The Deli at Jackson Hole Marketplace offers ready-made soups, sandwiches, breakfast burritos, and hot lunch specials. More at JHMarketplace.com
Want to be a guest on The Jackson Hole Connection? Email us at connect@thejacksonholeconnection.com. Marketing and editing support by Michael Moeri (michaelmoeri.com,@thatsamoeri).