Episode 184 – Creating the World's Finest Snowshapes with Mikey Franco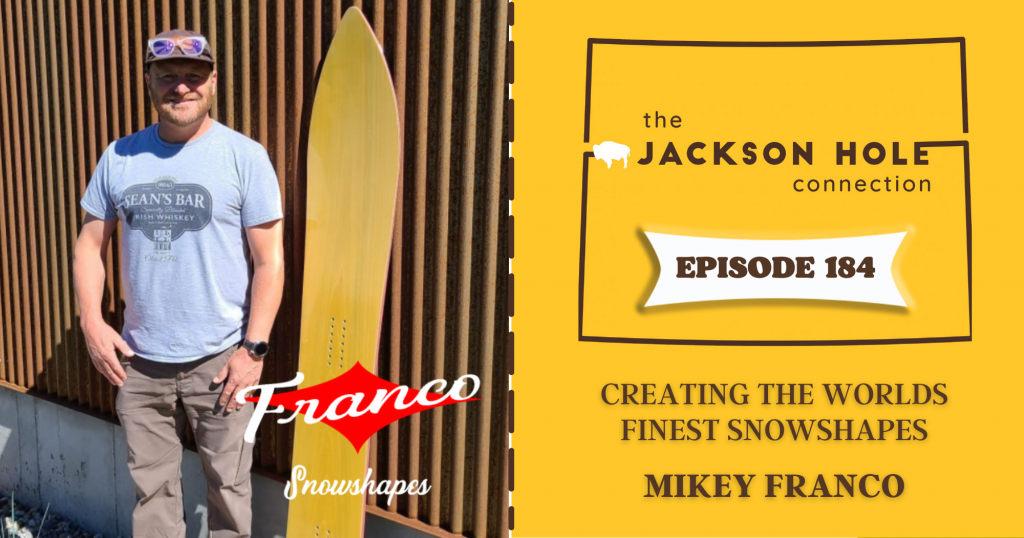 Mikey Franco is a rider, instructor, coach, trainer, guide, shaper and the founder of Franco Snowshapes. Franco Snowshapes crafts custom snowboards and skis with the mission to build the finest shapes in the world.
In this episode, Mikey talks about how he has seen snowboarding change and grow over the decades. He shares the story of how a season ending injury led him down the path of shaping custom boards. Mikey gives Stephan some insight into his Rider Genome questionnaire, which helps him create the perfect custom board from head to toe. Stephan and Mikey also talk about the importance of mentorship and growing at a pace where quality isn't sacrificed for quantity.
Find out more about Franco Snowshapes at FrancoSnowshapes.com
Follow Franco Snowshapes on Instagram @francosnowshapes
This week's episode is sponsored in part by Teton County Solid Waste and Recycling. Want to become a better recycler?  Well, there's an app for that – the Recycle Coach app!  Now available for Jackson Hole locals and visitors. More at TetonCountyWY.gov or at @RoadToZeroWaste.JH on Instagram

Support also comes from The Jackson Hole Gift Baskets. Carefully crafted, thoughtfully curated, and expertly assembled. We do the hard work, so you don't have to. More at JacksonHoleGiftBaskets.com
Want to be a guest on The Jackson Hole Connection? Email us at connect@thejacksonholeconnection.com. Marketing and editing support by Michael Moeri (michaelmoeri.com,@thatsamoeri).