Episode 240 – A Heartfelt Journey into Horse Rescue with Maury "Jonesy" Jones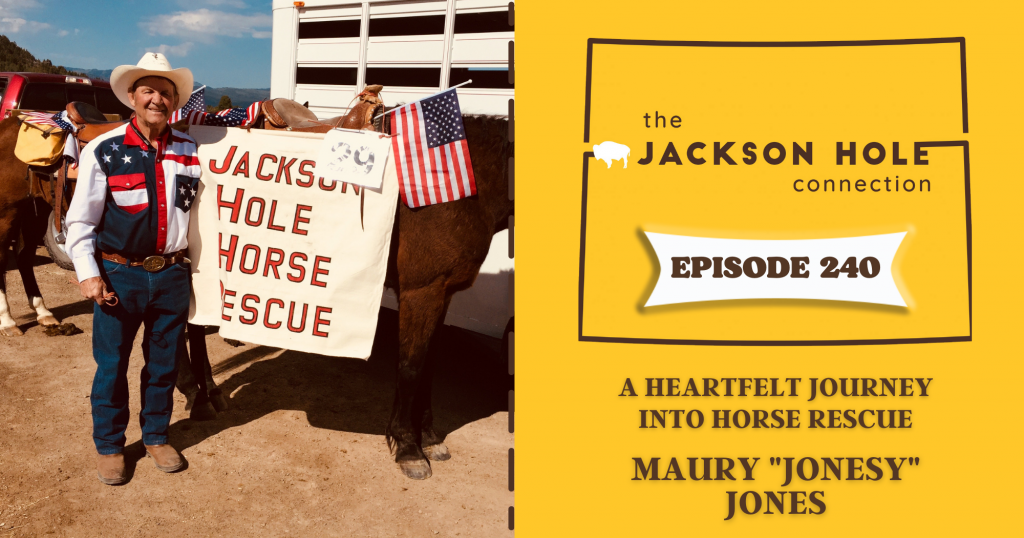 Maury "Jonesy" Jones is the dedicated founder and operator of Jackson Hole Horse Rescue, a nonprofit sanctuary for older horses in need. With a deep passion for horses and a heart for their well-being, Jonesy shares the inspiring story of how he started the rescue and the challenges and joys that come with running it.
From braving harsh winters to making tough decisions about end-of-life care, Jonesy gives us a candid look at what it takes to keep a horse rescue going, and how the support of committed volunteers has made all the difference. We also explore the importance of proper horse care, and how initiatives like Old Bill's Fun Run have helped the organization become financially self-sufficient.
But what really sets this episode apart are the unforgettable stories of the horses themselves. Jonesy takes us on a journey of discovery, introducing us to some of the amazing equines under his care and sharing the unique paths they have taken to find love and purpose. And as the episode draws to a close, we delve into the sensitive but necessary topic of horse euthanasia, and the empathy and respect Jonesy brings to this difficult decision.
Finally, don't miss out on the bonus cowboy poetry at the end of the episode! It's a fitting tribute to the spirit of these majestic creatures.
To learn more about Maury "Jonesy" Jones and the amazing work he does at Jackson Hole Horse Rescue, visit their website at JacksonHoleHorseRescue.com.
This week's episode is supported in part by Teton County Solid Waste and Recycling, reminding residents and commercial businesses of Teton County's food waste programs; the next frontier material in the quest to achieve the County's goal to reduce, aiming for zero waste. More at TetonCountyWY.gov or at @RoadToZeroWaste.JH on Instagram.
Support also comes from The Jackson Hole Marketplace. The Deli at Jackson Hole Marketplace offers ready-made soups, sandwiches, breakfast burritos, and hot lunch specials. More at JHMarketplace.com
Want to be a guest on The Jackson Hole Connection? Email us at connect@thejacksonholeconnection.com. Marketing and editing support by Michael Moeri (michaelmoeri.com)