Episode 142 – The Next Generation of Storytellers with Nick and Alex Martini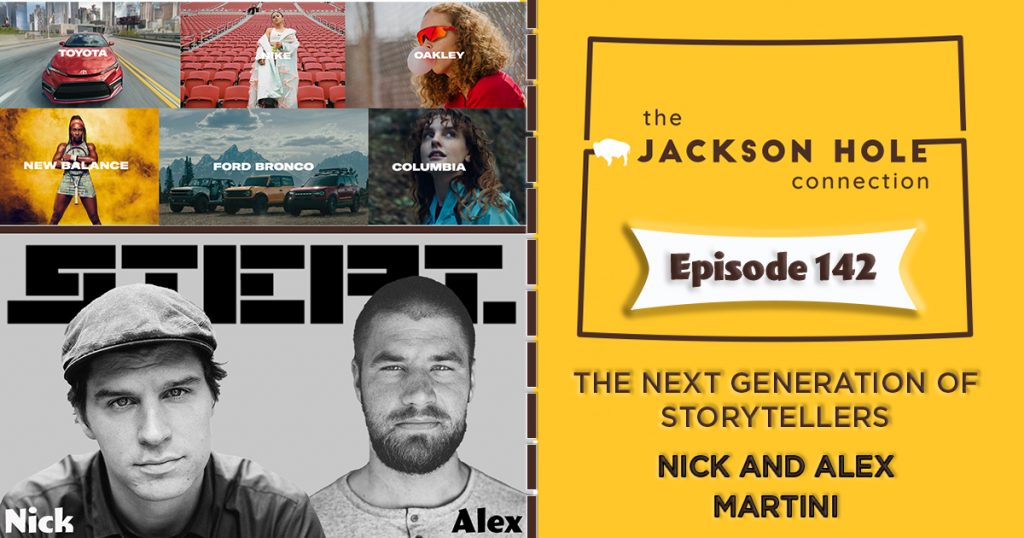 In this week's episode of the Jackson Hole Connection, Stephan visits with Nick and Alex Martini. Nick and Alex are the founders and partners of Stept Studios. Stept is a creative and production company based in Jackson Hole and Los Angeles. They are known for their eye-catching and engaging advertising and documentaries.
In this episode, Nick and Alex share how they first got into filmmaking as kids when they would make skateboarding videos for their friends. They talk about how they transitioned from being featured athletes in ski films to behind the camera. Nick and Alex discuss what it is like working with family and managing a business with multiple locations. Stephan also chats with them about some of their documentaries including a recent passion project called North Country that chronicles the story of the family who owns the oldest ski shop in America, Lahout Ski Shop in New Hampshire.
Watch the documentary North Country
Watch the documentary-style commercial for Ford that was shot in Jackson Hole and features Jimmy Chin here: SteptStudios.com
Stept Studios partners with some of the top agencies, platforms, and brands of today such as Ford, Toyota, Columbia, Oakley, Red Bull, Facebook, Google, Best Buy, Spyder, The North Face, Nike, Samsung, Pacifico, ESPN, and many more.
See more of Stept Studios work at steptstudios.com
Follow Stept Studios on Instagram @steptstudios
This week's episode is supported in part by Teton County Solid Waste and Recycling reminding you to reduce, reuse, recycle, and compost. Avoid single-use products whenever possible, and remember to bring your reusable bags with you while shopping. More at @RoadToZeroWasteJH .

Support also comes from The Jackson Hole Marketplace. The Deli at Jackson Hole Marketplace offers ready-made soups, sandwiches, breakfast burritos, and hot lunch specials. More at JHMarketplace.com
Want to be a guest on The Jackson Hole Connection? Email us at connect@thejacksonholeconnection.com. Marketing and editing support by Michael Moeri.