Episode 111 – Women Who Shape the West with Lindsay Linton Buk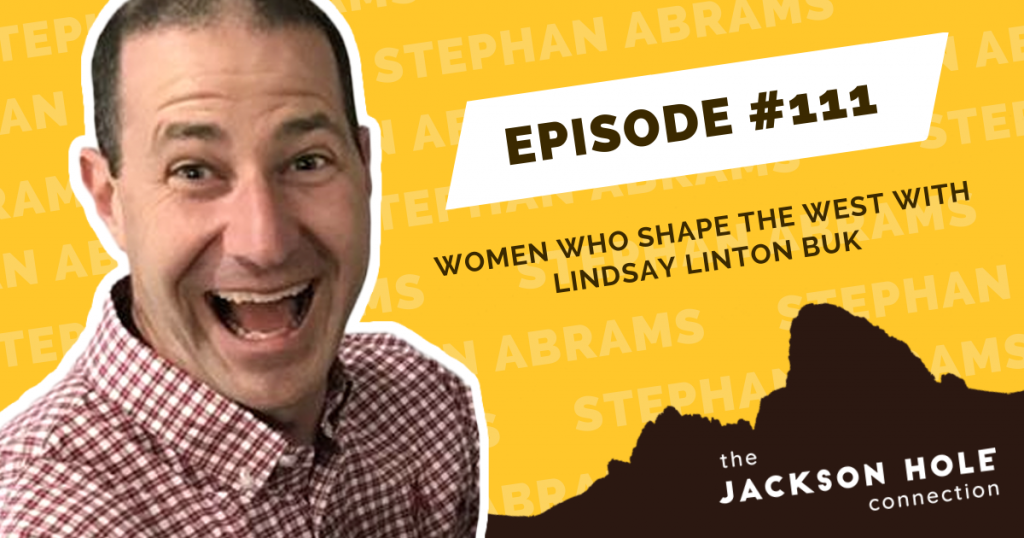 In this week's episode of the Jackson Hole Connection, Stephan visits with Lindsay Linton Buk. Lindsay is a fifth-generation Wyoming native, photographer, speaker, and the Director of the Women in Wyoming project. Her project's mission is to tell the inspiring stories of contemporary Wyoming women through art and media, celebrating their achievements, power, and learned wisdom.
In this episode, Lindsay talks about growing up in Wyoming, discovering her calling as a photographer, and she highlights some of the inspiring women featured in her Women in Wyoming project. Stephan and Lindsay also talk about how becoming a parent can influence your career path and why being present and open is key in order to survive, especially in these challenging times.
Lindsay's multimedia exhibit, "Women in Wyoming: Portraits and Interviews of Women Who Shape the West" is on view at the University of Wyoming Art Museum in Laramie, Wyoming from September 12, 2020, to July 17, 2021.
If you have an inspiring story or want to share a story of another inspiring woman, you can call and leave a voicemail or text 307-296-7560.  Your story may be featured in a future Women in Wyoming podcast episode or on social media.
Learn more about Lindsay's project at WomenInWyoming.com
Find out more about Lindsay at LintonProductions.com
Follow Lindsay on Instagram @lintonproductions
This week's sponsor is Prugh Real Estate! Prugh Real Estate, creating opportunities for people to live and work in Jackson Hole since 2002. Visit Prugh.com to search current listings. 

Want to be a guest on The Jackson Hole Connection? Email us at connect@thejacksonholeconnection.com 
Marketing and editing support by Michael Moeri. Music in this episode is provided by Luke Taylor.