Episode 235 – Preserving the Diamond Cross Legacy with Lauren Long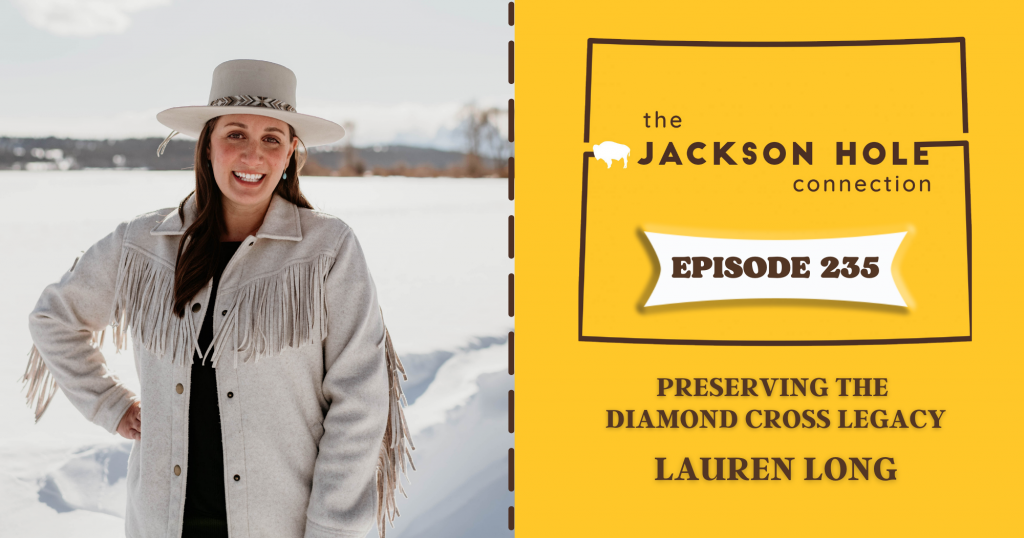 Lauren Long is the Head of Events at Diamond Cross Ranch and is raising the 5th generation of stewards. Lauren shares her journey from New York to Jackson Hole, as well as the ranch's origins, evolution and its serenity.
Discover the rich history of the Diamond Cross Ranch, which has been maintained by the same family for over a century. Stephan and Lauren explore the ranch's past, present, and future, and the family's commitment to preserving its natural beauty and history while meeting changing needs. Lauren also dives into the unique experiences and events hosted at the ranch, such as weddings, photoshoots, and celebrations of life, and the hand-built log cabins that have been part of the ranch for 30 years.
Learn more about the Diamond Cross Ranch at RanchJacksonHole.com
This week's episode is supported in part by Teton County Solid Waste and Recycling, reminding residents and commercial businesses of Teton County's food waste programs; the next frontier material in the quest to achieve the County's goal to reduce, aiming for zero waste. More at TetonCountyWY.gov or at @RoadToZeroWaste.JH on Instagram.
Support also comes from The Jackson Hole Marketplace. The Deli at Jackson Hole Marketplace offers ready-made soups, sandwiches, breakfast burritos, and hot lunch specials. More at JHMarketplace.com
Want to be a guest on The Jackson Hole Connection? Email us at connect@thejacksonholeconnection.com. Marketing and editing support by Michael Moeri (michaelmoeri.com)