Episode 163 – Meet Me Down at the Library with Jerry Bilek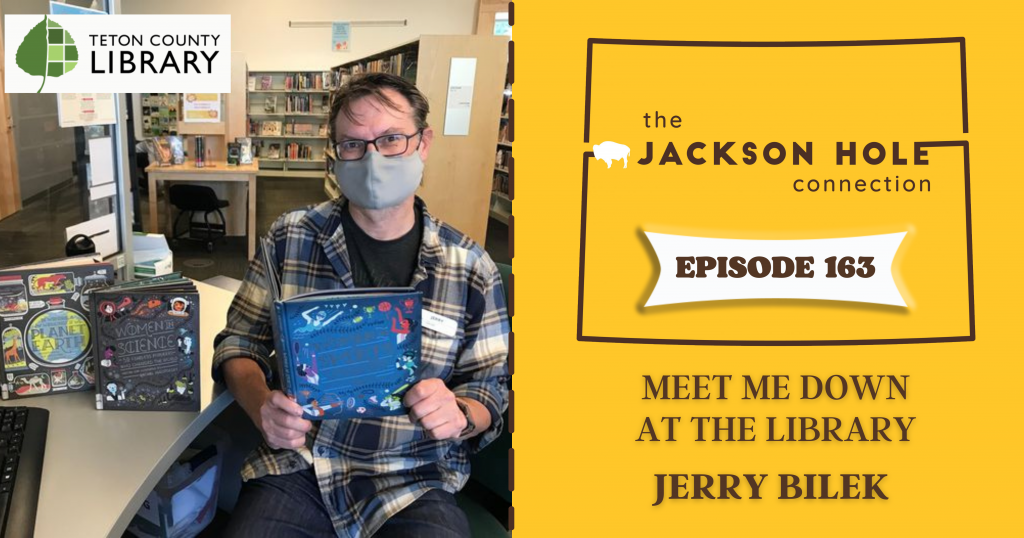 In this week's episode of the Jackson Hole Connection, Stephan visits with Jerry Bilek. Jerry is the Sr. Library Assistant at the Teton County Library.
In this episode, Jerry shares why he left Minnesota to move out to the mountains. He goes into how he survived owning a bookstore during the recession of 2008. Jerry gives insight into how the library chooses the media and books it loans out and how long they typically last. He talks about the podcast he does for the library on KHOL called Back of The Stacks. Stephan and Jerry also discuss all the other services the library offers on top of their amazing book selection.
Learn more about the Teton County Library at TCLIB.org
Listen to Back of the Stacks on SoundCloud.com
This week's episode is supported in part by Teton County Solid Waste and Recycling reminding you to reduce, reuse, recycle, and compost. Avoid single-use products whenever possible, and remember to bring your reusable bags with you while shopping. More at RoadtoZeroWasteJH.org or at @RoadToZeroWaste.JH on Instagram

Want to be a guest on The Jackson Hole Connection? Email us at connect@thejacksonholeconnection.com. Marketing and editing support by Michael Moeri (michaelmoeri.com).