Episode 135 – Reviving the Art of High-Altitude Cider Making with Ian McGregor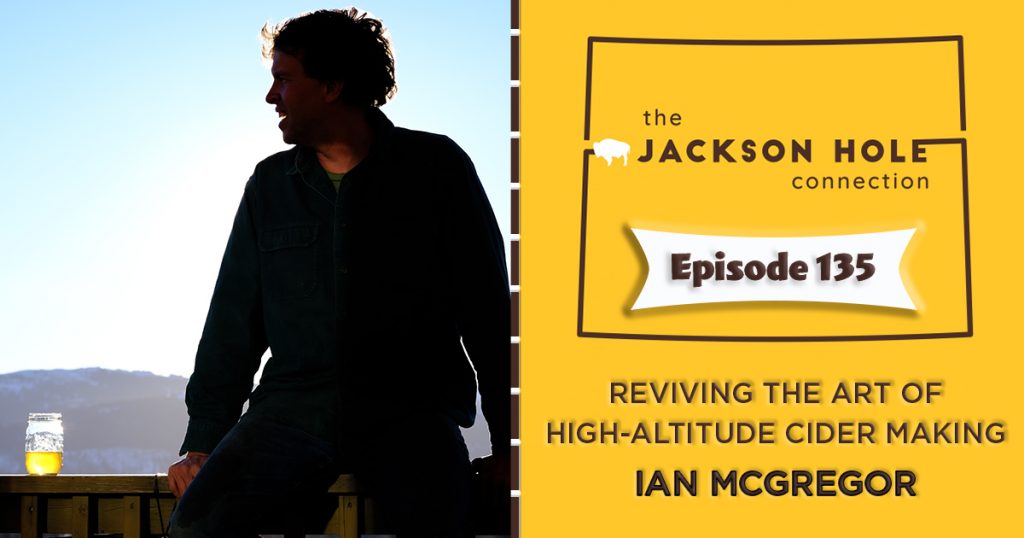 In this week's episode of the Jackson Hole Connection, Stephan chats with Ian McGregor. Ian is one of the lucky few who can say they were born and raised right here in Jackson. He is the co-founder of Farmstead Cider. Farmstead Cider is hard cider handmade in Jackson Hole from local Wyoming and Rocky Mountain apples. You also may recognize Ian from the Jackson farmer's market where he got his start selling local produce and pies as Mr. McGregor's Garden and Roots Kitchen and Cannery with his friend (now business partner) Orion.
In this episode, Ian shares how his passion for agriculture led him from living on the coasts to moving back home to Jackson. He talks about how Wyoming is unique for growing apples to eat and make cider and how his cider comes from foraging wild and forgotten apples. Stephan and Ian also discuss the importance of sustainability in agriculture and creating the future of apple production in Wyoming.
Find out more about Farmstead Cider at FarmsteadWYO.com
Follow Farmstead Cider on Instagram @FarmsteadCider
Connect with Ian by emailing Info@farmsteadwyo.com
This week's episode is supported in part by Jackson Hole Real Estate Associates. JHREA is the region's largest and most dynamic real estate company in the Valley. For more info and to view current listings visit JHREA.com

Support also comes from Teton County Solid Waste and Recycling reminding you to reduce, reuse, recycle, and compost. Avoid single-use products whenever possible, and remember to bring your reusable bags with you while shopping. More at TetonCountyWY.gov.

Want to be a guest on The Jackson Hole Connection? Email us at connect@thejacksonholeconnection.com. Marketing and editing support by Michael Moeri.