Episode 114 – More Than Fine Dining with Gavin Fine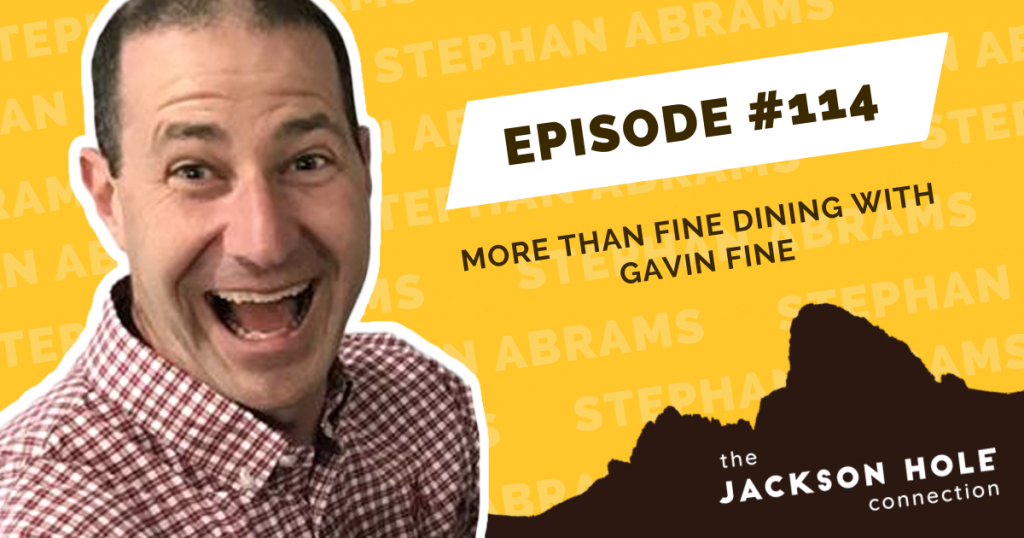 In this week's episode of the Jackson Hole Connection, Stephan visits with Gavin Fine. Gavin is a father, entrepreneur, chef, sommelier, mentor and an aspiring ski bum. Originally from Chicago, Gavin moved out to Jackson almost 25 years ago to pursue the ski town lifestyle. Fast forward – Gavin is now the Owner of The Fine Dining Restaurant Group and Co-Owner of Roadhouse Brewing Co. The FDRG is the backbone of the culinary scene in Jackson. The group consists of Rendezvous Bistro, Bistro Catering, Il Villaggio Osteria, The Kitchen, Bin22, Bodega, Bar Enoteca, Cream + Sugar and Bovine + Swine. 
In this episode, Gavin talks about starting out in Jackson, growing the Fine Dining Group and how the culinary scene has changed and evolved over the past 20 years. Stephan and Gavin also talk about what it takes to be a good leader and the importance of giving back to the community. 
Learn more about The Fine Dining Restaurant Group at JHFineDining.com
Connect with Gavin by emailing Gavin@jhfinedining.com
Watch Gavin compete on Beat Bobby Flay – YouTube
Follow Gavin on Instagram @GavinFine
Want to be a guest on The Jackson Hole Connection? Email us at connect@thejacksonholeconnection.com 

This week's sponsor is Prugh Real Estate! Prugh Real Estate, creating opportunities for people to live and work in Jackson Hole since 2002. Visit Prugh.com to search current listings. 
Marketing and editing support by Michael Moeri. Music in this episode is provided by Luke Taylor.