Episode 174 – Flying to Save Lives with Dr. Richard Sugden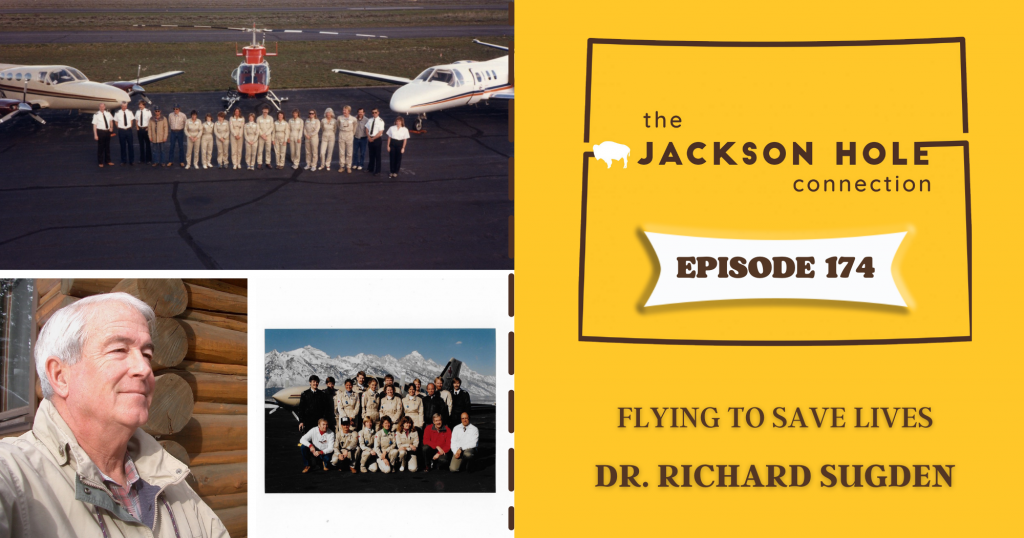 In this week's episode of the Jackson Hole Connection, Stephan chats with Dr. Richard Sugden. Dr. Sugden is a veteran, pilot, entrepreneur, physician, paramedic, and teacher to young aviators. Dr. Sugden first called Jackson Hole home back in the 40s when his family owned a dude ranch in Kelly. Dr. Sugden helped establish the first air ambulance service in Jackson Hole back in 1980. He has been inducted into the Wyoming Aviation Hall of Fame and is the recipient of the Harrison Ford Aviation Legacy Award. Currently, Dr. Sugden is a family medicine doctor based in Jackson Hole. 
In this episode, Dr. Sugden shares what it was like to grow up in a Navy family. He talks about spending part of his childhood in Kelly, WY, Rome and San Francisco. Dr. Sugden goes into what brought him back out to Jackson and how he helped create Jackson Hole Air Ambulance, the first of its kind in the greater Teton area.
Dr. Sugden has helped serve and save countless people in his life. When he isn't helping others, he can be found restoring vintage military aircrafts or flying with his wife Sue. 
Stephan's Recommendations this week:
The Daily Stoic and The Daily Dad, both by Ryan Holiday
This week's episode is sponsored in part by Teton County Solid Waste and Recycling. Want to become a better recycler?  Well, there's an app for that – the Recycle Coach app!  Now available for Jackson Hole locals and visitors.
More at TetonCountyWY.gov or at @RoadToZeroWaste.JH on Instagram
Support also comes from The Jackson Hole Marketplace. The Deli at Jackson Hole Marketplace offers ready-made soups, sandwiches, breakfast burritos, and hot lunch specials. More at JHMarketplace.com
Want to be a guest on The Jackson Hole Connection? Email us at connect@thejacksonholeconnection.com. Marketing and editing support by Michael Moeri (michaelmoeri.com,@thatsamoeri).