Episode 204 – Conserving Our Resources in Teton County with Carlin Girard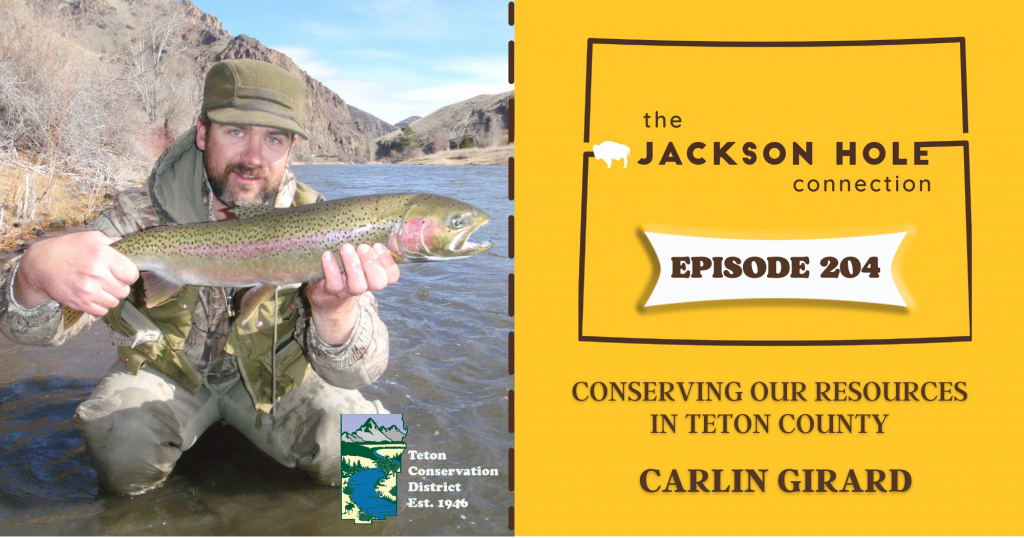 Carlin is the Executive Director of the Teton Conservation District. Originally from western Massachusetts, Carlin grew up surrounded by nature. He ventured out west to attend college in Prescott, AZ and made his way to the oil fields of the Big Piney area before landing in Jackson Hole over 15 years ago.
In this episode, Carlin shares what it was like growing up near the Appalachian Trail and why he eventually headed west. He talks about how a college thesis landed him in the oil fields near Big Piney and the research he was conducting. Stephan and Carlin then talk about some of the important work that the Teton Conservation District does for the community. Some of the programs and collaborations that they have been involved in include growing the native plant species, wildfire risk mitigation, well water test kits, wildlife monitoring, alternative energy, and many more.
Learn more about the Teton Conservation District at TetonConservation.org
Follow Teton Conservation District on Instagram @tetonconservation
This week's episode is sponsored in part by Teton County Solid Waste and Recycling. Old Bill's Fun Run donations directly support zero waste education and outreach. Recycle often, recycle right, and donate today! Donate at OldBills.com. More at @RoadToZeroWaste.JH
Support also comes from Compass Real Estate, the region's largest and most dynamic real estate company in the valley. For more information and to view current listings visit COMPASS.com or at @compassjacksonhole
Want to be a guest on The Jackson Hole Connection? Email us at connect@thejacksonholeconnection.com. Marketing and editing support by Michael Moeri (michaelmoeri.com,@thatsamoeri)