Episode 153 – Seeing the World On Two Wheels with Brook Yeomans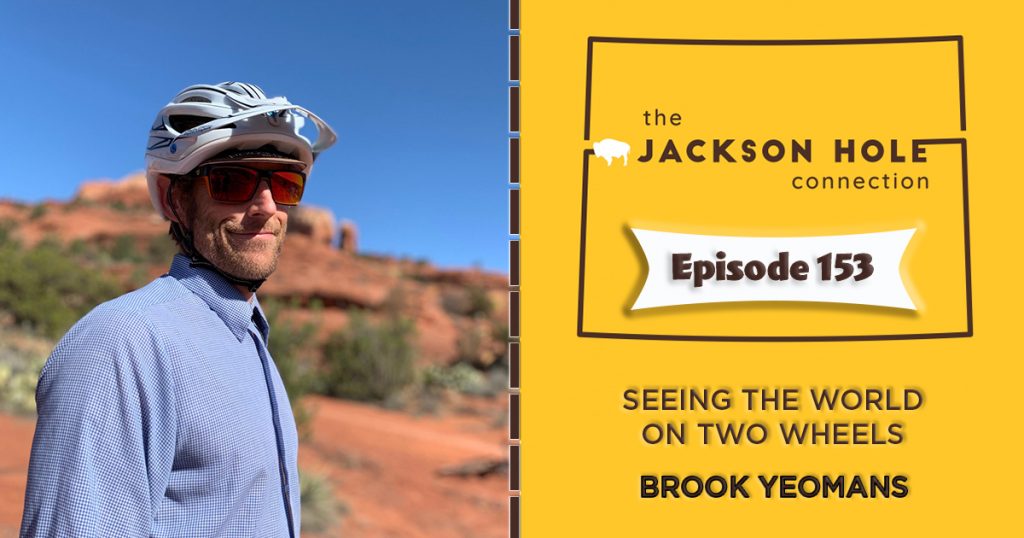 In this week's episode of the Jackson Hole Connection, Stephan visits with Brook Yoemans. Brook is a special education teacher at Colter Elementary. He is also a member of Teton County Search and Rescue. When Brook isn't helping others, he can often be found on the open road doing long distance bicycling trips with his friends and family.
In this episode, Brook shares how going to camp in northern Wisconsin would eventually help him land in Jackson, Wyoming. He shares how his passion for caring for others has helped him work in many impactful organizations in the Teton community. Brook talks about his love for bicycling and shares some of his adventures from his long distance trips. He also shares how a tragic experience in the mountains has led him to be a part of the Search and Rescue team that helped save his life. Stephan and Brook also discuss the good in humanity and the kindness of strangers.
This week's episode is supported in part by Jackson Hole Real Estate Associates and Compass Jackson Hole. JHREA is the region's largest and most dynamic real estate company in the Valley. For more info and to view current listings visit JHREA.com

Support also comes from Teton County Solid Waste and Recycling reminding you to reduce, reuse, recycle, and compost. Avoid single-use products whenever possible, and remember to bring your reusable bags with you while shopping. More at RoadtoZeroWasteJH.org or @RoadToZeroWasteJH on Instagram.

Want to be a guest on The Jackson Hole Connection? Email us at connect@thejacksonholeconnection.com. Marketing and editing support by Michael Moeri.