Episode 229 – Navigating the Creative Path with Bronwyn Minton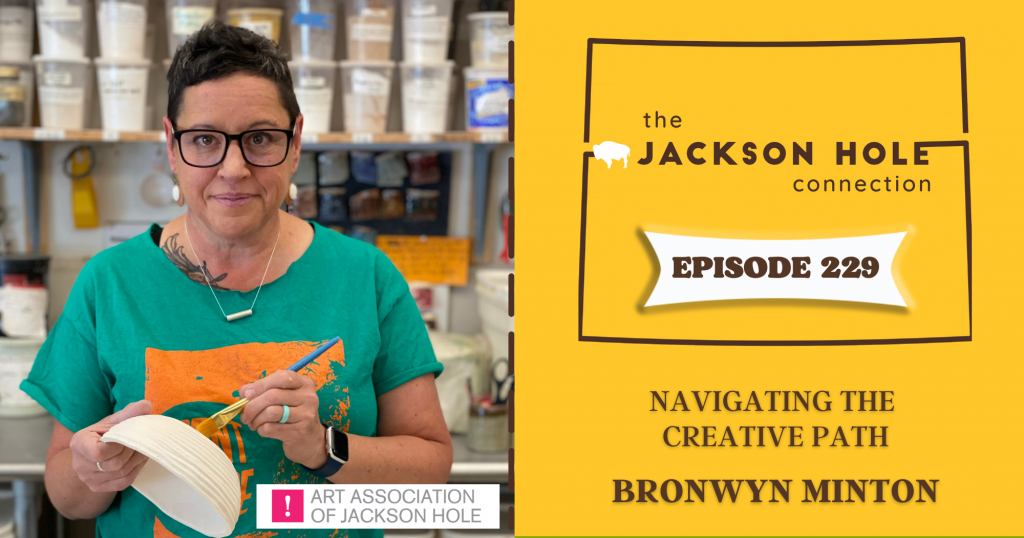 Bronwyn Minton is a mother, a passionate teacher, and a talented artist. As the Executive Director of the Art Association of Jackson Hole, she has been a driving force behind the organization's success in promoting art in the local community.
Originally from New Hampshire, Bronwyn developed a deep appreciation for the breathtaking landscapes of Wyoming during her summers spent at a camp in the Wind River Range. Her love for the state led her to make Jackson her permanent home more than 30 years ago in 1992, after leaving bustling cities such as New York and Portland.
In this episode, Bronwyn shares her nostalgic memories of spending summers at a camp near Pinedale, and discusses what motivated her decision to settle down in Jackson. Stephan and Bronwyn delve into the Art Association's extensive community programs and events, including the exciting "WhoDunnit" mystery event. They also reflect on the rich history of the Art Association, which is celebrating its 60th anniversary this year. Furthermore, Bronwyn shares insights into her artistic process, describing how she channels her emotions into visually stunning works of art.
To see Bronwyn's art, visit BronwynMinton.com
Learn more about the Art Association of Jackson Hole at ArtAssociation.org
This week's episode is supported in part by Teton County Solid Waste and Recycling, reminding businesses of Teton County's "Curb to Compost" Program for food waste collection; an important next step in your restaurant's recycling program. More at TetonCountyWY.gov or at @RoadToZeroWaste.JH on Instagram.
Support also comes from The Jackson Hole Marketplace. The Deli at Jackson Hole Marketplace offers ready-made soups, sandwiches, breakfast burritos, and hot lunch specials. More at JHMarketplace.com
Want to be a guest on The Jackson Hole Connection? Email us at connect@thejacksonholeconnection.com. Marketing and editing support by Michael Moeri (michaelmoeri.com)