Episode 166 – Keeping Our Roads Safe From Avalanches with Brenden Cronin of WYDOT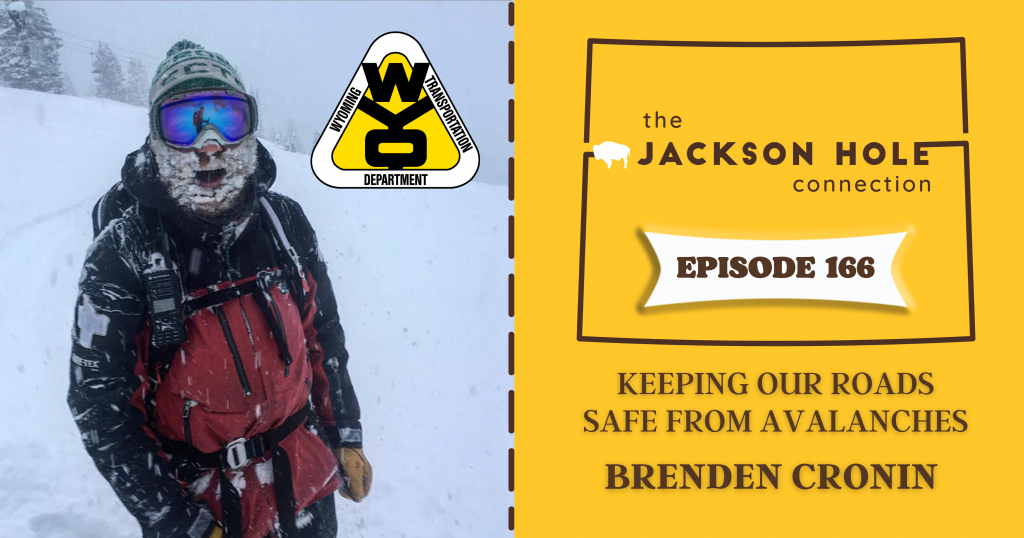 In this week's episode of the Jackson Hole Connection, Stephan chats with Brenden Cronin. During this interview, Brenden is working in the field hiking up Glory Mountain. Brenden has done numerous types of jobs in the valley, but the winters are all about working in the snow. He has worked on Togwotee Pass as a snowcat skiing guide, an avalanche instructor for the forest service and the American Avalanche Institute, a ski patroller and snowmaker at JHMR and currently he is a Highway Avalanche Forecaster for WYDOT. 
In this episode, Brenden talks about what goes into monitoring Avalanche conditions around the highways. He shares what it is like currently being the only full-time Avalanche forecaster in the state and what the public sometimes perceives his role as. Brenden goes into why WYDOT takes certain precautions and how stressful keeping the roads safe can be. Stephan and Brenden also discuss mudslides and how it is handled differently than avalanches. 
This week's episode is supported in part by Teton County Solid Waste and Recycling reminding you to reduce, reuse, recycle, and compost. Avoid single-use products whenever possible, and remember to bring your reusable bags with you while shopping. More at RoadtoZeroWasteJH.org or at @RoadToZeroWaste.JH on Instagram

Support also comes from The Jackson Hole Marketplace. The Deli at Jackson Hole Marketplace offers ready-made soups, sandwiches, breakfast burritos, and hot lunch specials. More at JHMarketplace.com
Want to be a guest on The Jackson Hole Connection? Email us at connect@thejacksonholeconnection.com. Marketing and editing support by Michael Moeri (michaelmoeri.com,@thatsamoeri).