Episode 143 – Ten Years of Persephone Bakery with Ali Cohane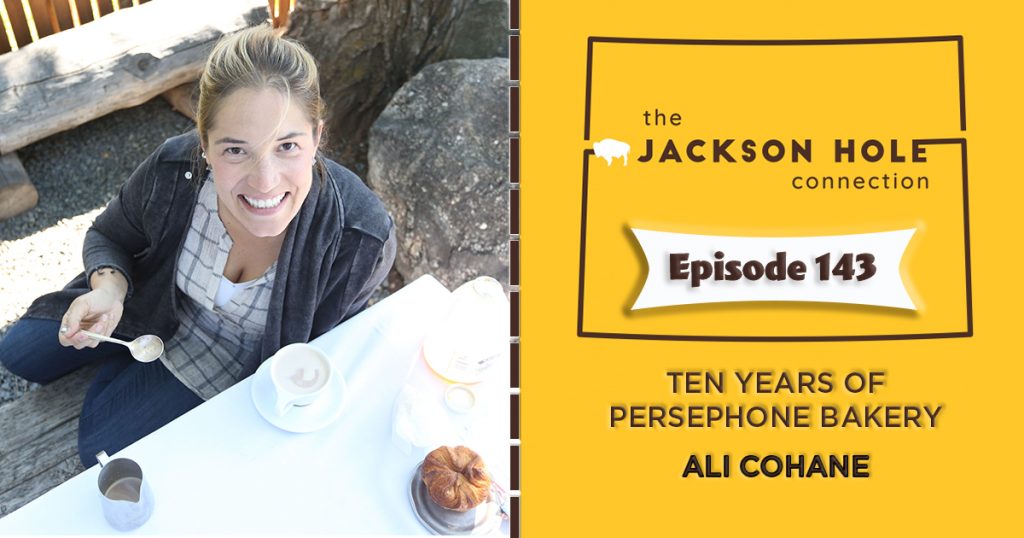 In this week's episode of the Jackson Hole Connection, Stephan visits with Ali Cohane. Ali is the Owner and Founder of Persephone Bakery, Picnic and Coelette. Persephone Bakery is celebrating its 10th Anniversary this year. To help celebrate and to give thanks to the community, on Saturday, June 12th and Sunday, June 13th they will be donating 10% of sales from all locations to the Community Foundation. 
In this episode, Ali shares how she ended up making Jackson her home. She talks about the journey of creating Persephone Bakery with Kevin, her husband, bread baker, and chef. Ali also shares where she gained inspiration for the bakery and restaurants. Stephan and Ali discuss the importance of the support of the local community and how the increase in tourism has affected the businesses and people of Jackson. 
Find out more about Persephone Bakery at PersephoneBakery.com
Check out Coelette's menu and make a reservation at Coelette.com
See what's on the menu at Picnic at PicnicJH.com
This week's episode is supported in part by Teton County Solid Waste and Recycling reminding you to reduce, reuse, recycle, and compost. Avoid single-use products whenever possible, and remember to bring your reusable bags with you while shopping. More at @RoadToZeroWasteJH . 

Support also comes from The Jackson Hole Marketplace. The Deli at Jackson Hole Marketplace offers ready-made soups, sandwiches, breakfast burritos, and hot lunch specials. More at JHMarketplace.com
Want to be a guest on The Jackson Hole Connection? Email us at connect@thejacksonholeconnection.com. Marketing and editing support by Michael Moeri.