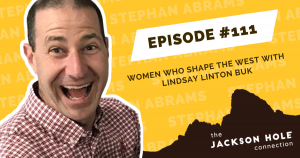 In this episode, Lindsay talks about growing up in Wyoming, discovering her calling as a photographer, and she highlights some of the inspiring women featured in her Women in Wyoming project. Stephan and Lindsay also talk about how becoming a parent can influence your career path and why being present and open is key in order to survive, especially in these challenging times.
Read More
"I listened to Ian and Tim. Thought they were both great!  Ian is hilarious!   Definitely got me thinking about what I do day in and day out."
Richard Levy
Jackson, Wyoming
The Jackson Hole Connection is Jackson Hole's Community Podcast, founded by Stephan Abrams with founding sponsors The Liquor Store of Jackson Hole and Jackson Hole Marketplace.