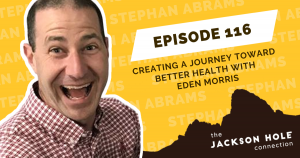 In this episode, Eden talks about falling in love with Jackson, why she pursued the path of becoming a dietitian, and her own struggles with food and nutrition. Stephan and Eden also discuss the various challenges people face when it comes to being healthy and why you shouldn't judge a book by its cover.
Read More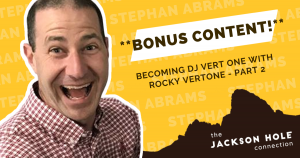 **If you've already listened to the shorter interview with Rocky Vertone on November 20th, please enjoy part two of the conversation. If you haven't yet listened to part one of the interview, please skip to the previous recording for the full episode. ** In this week's episode of the Jackson Hole Connection, Stephan visits with…
Read More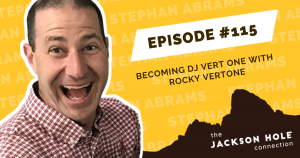 Rocky is a father, husband, skater, DJ, and business owner. Rocky is the owner of Full Circle Frameworks, a custom picture frame shop. He is also the Co-Founder of Four4 Productions, which he founded with the late DJ King Weep. Rocky spins under the name DJ Vert One and has played basically every venue that allows music since 1996. 

In this episode, Rocky talks about coming out to Jackson, how he got into DJing, and the founding of Four4 Productions with the legend King Weep. 
Read More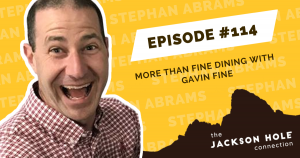 In this week's episode of the Jackson Hole Connection, Stephan visits with Gavin Fine. Gavin is a father, entrepreneur, chef, sommelier, mentor and an aspiring ski bum. Originally from Chicago, Gavin moved out to Jackson almost 25 years ago to pursue the ski town lifestyle. Fast forward – Gavin is now the Owner of The…
Read More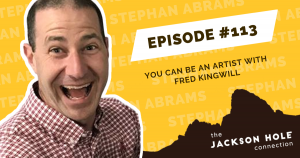 While working in the Forest Service was Fred's main career, his passion has always been painting with watercolors. 
In this episode, Fred talks about working in the Forest Service, raising kids in Jackson Hole and why he chose to paint with watercolors. Stephan and Fred also talk about defining success and how everyone can be an artist. 
Read More
"I listened to Ian and Tim. Thought they were both great!  Ian is hilarious!   Definitely got me thinking about what I do day in and day out."
Richard Levy
Jackson, Wyoming
The Jackson Hole Connection is Jackson Hole's Community Podcast, founded by Stephan Abrams with founding sponsors The Liquor Store of Jackson Hole and Jackson Hole Marketplace.