Episode 59 – Painting with Gunpowder with Danny Shervin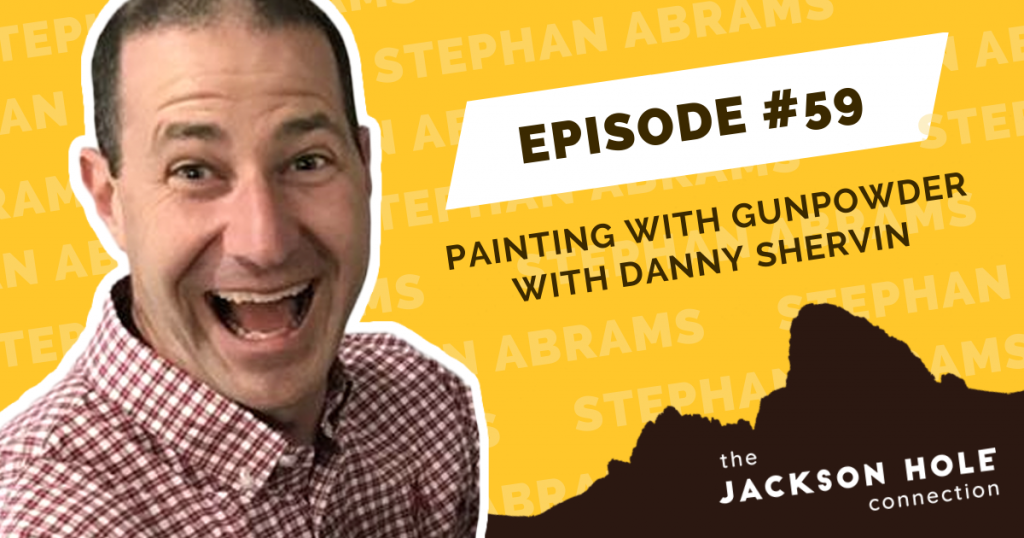 In this week's episode of the Jackson Hole Connection, Stephan visits with Danny Shervin. Danny is a father, husband, entrepreneur, artist and founder of Paint with Gunpowder. Danny is part of a 5th generation Jackson family. A few years ago, Danny decided to give up his steady bank job to focus on his art full time. 
In this episode, Stephan and Danny talk about growing up in Jackson, family heritage, parenting, painting with gunpowder and pursuing your dreams. 
To directly connect with Danny, email info@paintwithgunpowder.com
Learn more about Danny Shervin and Painting with Gunpowder:
Watch Danny Create His Gunpowder art:
Recommended Book by Danny: 

This week's sponsor is Buddy Pegs Media! 
---
About Buddy Pegs
If you're a parent today, you're familiar with the struggle with navigating the modern, digitally fueled childhood.  What you may not be familiar with is the year over year rise in childhood depression, anxiety, obesity, and suicide. Well, our guest today believes that bicycle riding is a wonderful way to build confident kids and connected families.
 Scott Fitzgerald is the Founder and CEO of Buddy Pegs Media – a Family Adventure Media company that celebrates cycling through children's books and podcasts and classes that teach bicycle riding to children between 2 and 7 years old.
After selling the popular local bike shop Fitzgerald's Bicycles, Scott and his wife Jannine built Buddy Pegs Media and Buddy Pegs Learn To Ride to keep fueling their mission to create happier, more successful children, a healthier lifestyle for families, and social impact.
Thinking "lifestyle business"? Think again. The US Children's Publishing Industry generates $3.5B annually, The Kids' Sports Industry generates $15B annually, and children under 12 influence $500B in annual purchasing in the US.
This September (2019), the Buddy Pegs team relocated temporarily to Bentonville, AR to launch a full model of classes, camps, and events across North West Arkansas before scaling nationwide.
---
Do you enjoy The Jackson Hole Connection? Please subscribe, rate and review our podcast wherever you listen. Tune in every Thursday for a new episode of The Jackson Hole Connection. 
Want to be a guest on The Jackson Hole Connection? Email us at connect@thejacksonholeconnection.com 
Music in this episode is provided by Luke Taylor. The Jackson Hole Connection is edited by Michael Moeri. Website and social media support by Tana Hoffman.