**Bonus Content** – Episode 115 – Becoming DJ Vert One with Rocky Vertone Part 2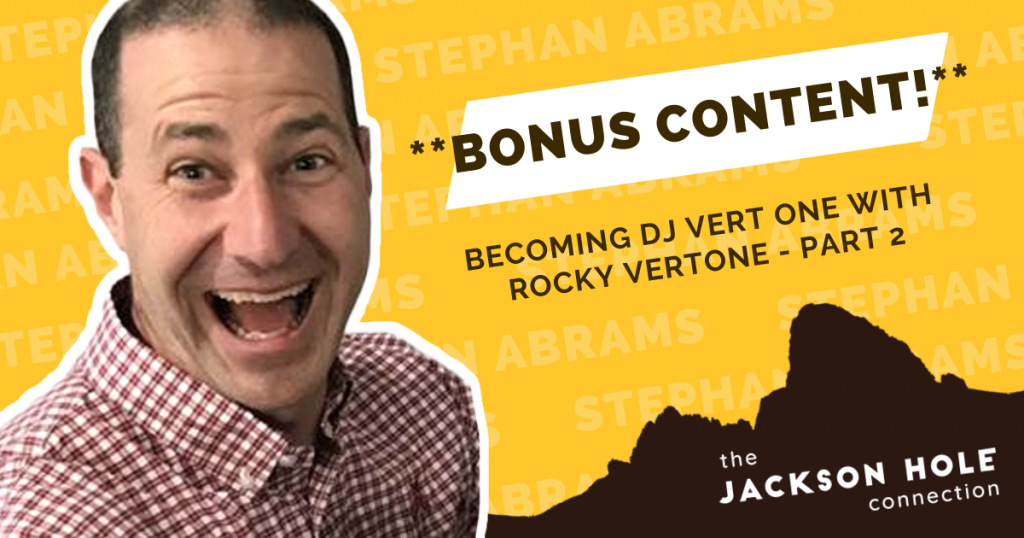 **If you've already listened to the shorter interview with Rocky Vertone on November 20th, please enjoy part two of the conversation. If you haven't yet listened to part one of the interview, please skip to the previous recording for the full episode. **
In this week's episode of the Jackson Hole Connection, Stephan visits with Rocky Vertone. Rocky is a father, husband, skater, DJ, and business owner. Rocky is the owner of Full Circle Frameworks, a custom picture frame shop. He is also the Co-Founder of Four4 Productions, which he founded with the late DJ King Weep. Rocky spins under the name DJ Vert One and has played basically every venue that allows music since 1996.
In this episode, Rocky talks about coming out to Jackson, how he got into DJing, and the founding of Four4 Productions with the legend King Weep. Rocky also shares about what it is like to recover after the loss of his childhood friend. Stephan and Rocky also discuss what it is like to keep up a DJ career during this period of COVID-19. 
Find it in Apple Podcasts or where you get your podcasts. You can also listen at TheJacksonHoleConnection.com
This week's sponsor is Prugh Real Estate! Prugh Real Estate, creating opportunities for people to live and work in Jackson Hole since 2002. Visit Prugh.com to search current listings.
Marketing and editing support by Michael Moeri. Music in this episode is provided by Luke Taylor.